Rotary Valve For Potentially Explosive Atmospheres (Atex Certified)
An ATEX certified valve does not cause a risk for explosion, hence it is mostly used with explosive materials. This rotary valve is approved for use in explosive atmospheres. It is powered by an ATEX certified geared motor, and all components of an ATEX rotary valve system must have ATEX certification. ATEX explosion tested, and certified rotary valve offers effective explosion isolation for bulk handling, pneumatic conveying, and other industrial related processes. The valve is used in industrial sectors such as cement, steel, and other sectors where a potentially explosive atmosphere may exist.
Polimak ATEX series rotary valves are certified with 10 bar explosion tests. All components of rotary valves comply with ATEX regulations and provide ex-proof characteristics. Ex-proof electrical motors, ATEX certified sensors, low friction bearings are used in these rotary airlock valves to ensure process and environment safety.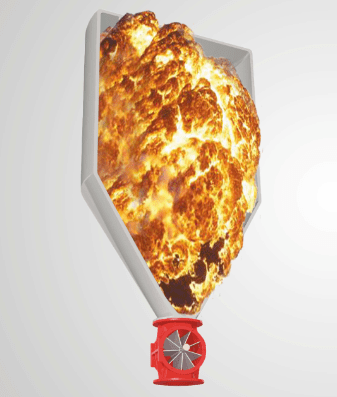 In the case where an explosion happens, there are several ways of stopping a flame from spreading. One of the ways to do so is by using an isolation valve – rotary valve. It is designed in such a way that it is able to stop a flame wave and resist or reduce the explosion pressure impact. This is called flame resistance and explosion isolation. Coal powder, sugar powder, raw materials of paint and similar bulk materials are flammable and explosive in certain conditions. Ex-proof and ATEX certified equipment are to be used to prevent dust explosion risks. Polimak rotary airlock valves are designed to conform explosion isolation regulations.
In order for a rotary valve to be used in industrial sectors that handle inflammable bulk materials, the rotary valve must be ATEX certified. ATEX directives perform a few experimental tests by using a combustible dust cloud (e.g., flour dust cloud) for the purpose of certifying the valve. An explosion proof chamber is installed with the valve attached to it on one end (chamber exist), then a combustible dust or gas is piped into the chamber and ignited by using an igniter e.g., a spark plug. According to the experimental test results, an ATEX certification is granted to the valve's manufacture
Industries are to classify the areas of the explosive atmospheres into zones according to the ATEX directive. The probability of the explosion developing and how long it will persist if developed, determines the location, size, and classification of the zone. The zone classification for hazardous dusts and fibers are;
This is an explosive atmosphere with a combustible dust cloud which is likely to ignite frequently and extensively.
This is an explosive atmosphere containing a combustible cloud which ignites less frequently and less extensively compared to that of Zone 20.
In this zone, the explosive atmosphere contains a combustible dust cloud which ignites less frequently than the above-mentioned zones and occurs for a short period of time.
For ones that involve hazardous gas, mist or vapor, the zones can be classified as follows.
This comprises of areas where an explosive atmosphere containing dangerous gas, vapor or mist may combust frequently for an extended period of time.
This includes areas where the explosive atmosphere with hazardous vapor, mist or gas is likely to combust less frequently and less extensively compared to the effects in Zone 0.
An explosive atmosphere containing gas, vapor or mist that ignites less frequently and occurs for a short period of time compared to Zones 0 and 1.